South African Featured Artists
Don't miss the Washington DC exhibition of
14 emerging and career South African Artists.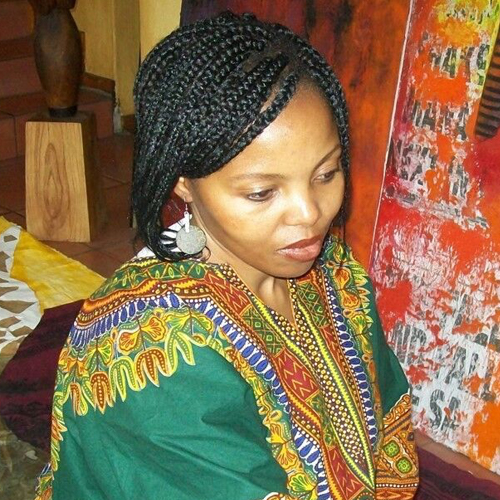 BONGI BENGU
BONGI BENGU
BONGI BENGU
"I have a love for rich textured surfaces. My work is about layering textures, experiences and emotions."
Born in Eshowe, KwaZulu-Natal, Bongi Bengu gained her exposure to art as a child growing  up in Swaziland, South Africa. As a student in Swaziland, she received a distinction for a research project, which included interviewing established and major artists, who later became her colleagues at The Bag Factory Studios in Newtown, Johannesburg. This eye- opening experience inspired her to become an artist. She received her BA (Fine Arts, cum laude) from Mount Vernon College, Washington DC, USA in 1993 and in 1997, her Master of Fine Arts from the University of Cape Town. She has since been featured in galleries both in South Africa and abroad and continues to exhibit and participate in international residencies and workshops.
Bongi is known as the jewel of South African art. She is a well-established artist who uses art as a tool to heal and connect with the spiritual world.
CAELYN ROBERTSON
CAELYN ROBERTSON
CAELYN ROBERTSON
"As a portrait artist, be it male or female, knowing the model is important when it comes to capturing the soul of a person."
Growing up in Cape Town, South Africa, and born to a musician father and artist mother, Caelyn Robertson was exposed to life in the arts from a very young age. She is a young, contemporary portrait artist working predominantly in the medium of oil painting. Her works are generally large scale and her style is realistic, depicting human faces and their expressions. It is bold and expressive in both color and technique. Caelyn began her art career in 2009 and is self-taught.
She strives to improve her craft with every new portrait she paints. Her paintings reflect the warmth, strength, beauty and serenity that are true to the female species at their best! As a portrait artist, be it male or female, knowing the model is important when it comes to capturing the soul of a person. She has an eye for detail and her works are bold and expressive in both color and technique. She started working from others' photographs but now paints from her own photographs. As she has grown in confidence and skill as an artist, so has the scale of her paintings!
Caelyn has participated in solo and group shows in Cape Town including Coronation Fund exhibition, Youngblood – Beautiful Life Gallery, Grand Daddy Hotel Exhibition, Eclectica Modern Gallery and more. Her artworks are in many private residences throughout South Africa, Sweden, Namibia, India and Dubai. For the past six years she has been living and working part time in Cape Town as well as traveling, volunteering and painting around the world.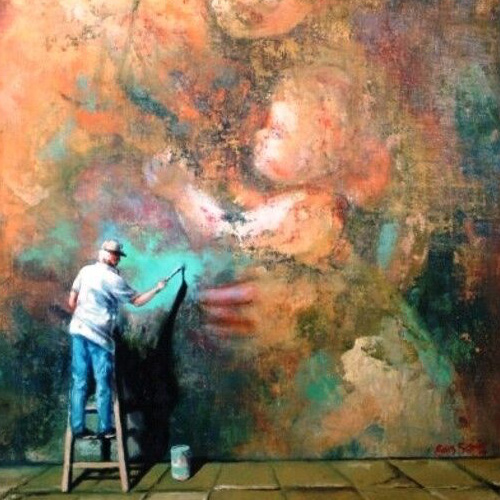 EDITH SCHMIDT
EDITH SCHMIDT
EDITH SCHMIDT
"I love to paint about my experiences in life. I cherish special moments, longings, opinions and beliefs. I do not call it 'social commentary,' rather – my life in pictures. Everything around me, is a symbol of LIFE."
Edith Schmidt is an artist and art and music teacher for the last 34 years. She earned her B.A. (BK), U.P. in 1976 and completed her B.A. (HOD) at UNISA 1982, as well as Licentiate in Music (UNISA). Over the time of her career she has been commissioned to paint numerous politicians. Edith has participated in numerous group exhibitions in South Africa and London. Collectors from Brasilia, Germany and Australia have bought her paintings. Edith is the founder of the Art Association of Cullinan and Rayton. She has a mission to inspire all around her to value art and music and to teach art to as many aspiring artists and in as wide a field as possible.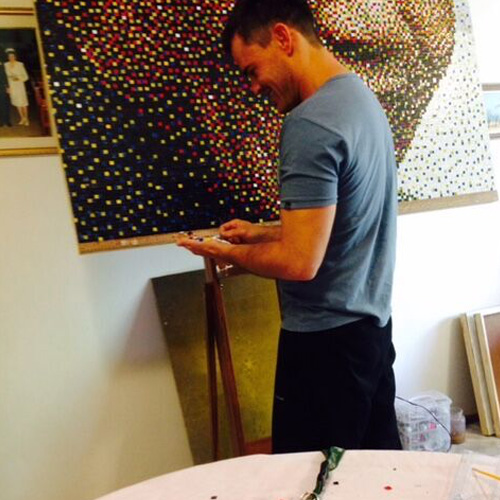 IZAK FOURIE
IZAK FOURIE
IZAK FOURIE
"Art has the ability to unite not just artists in their diverse expression but also the viewer and broader public and plays a pivotal role in social cohesion and a deeper understanding of our diverse cultures."
Izak was born in SchweizerReneke after which he completed grade 12 in High School Hartebeespoortdam, in 1999, Gauteng area. Izak Fourie is an artist whose ability to create in various mediums makes him completely unique. His artistic talent combined with his architectural background gives him the ability to not only visualize the art pieces and space in which it will be used, but also to create a custom-made piece of art which adds value to any decorating project.
This, along with the fact that Izak pride himself in each and every piece he creates, are the reason why Izak'smasterpieces form part of the decorating projects of some of South Africa's most respected interior designers nationwide. Izak especially loves to work with recycled products, such as empty cold drink tin cans, and has made his initial artistic impression in South Africa with the Mandela portrait, consisting of 55,000 tin squares. After this, a whole exhibition of "tin" pieces followed, making this one of Izak's unique trademarks. Izak Fourie is an artist to take note of and his creations are must-have items in any art lover's collection.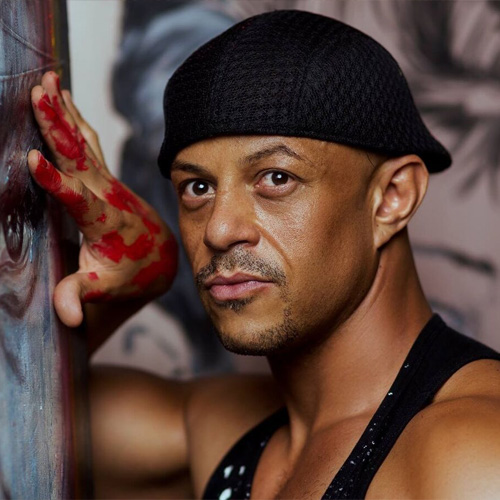 JOHN ADAMS
JOHN ADAMS
JOHN ADAMS
"The degree to which colors have been used in nature, challenges me extremely, and this in itself has spurred me to look at colors in a different light altogether."
John studied and completed industrial design at a technikon college in Johannesburg, South Africa. After the challenge of not finding employment in his field of study, he worked as a technician and an HP printer dealer, but continued painting after work.
John's first collection was inspired by his native country featuring wildlife and the different tribes from his native land. This was followed by a string of commissions for more wildlife by a collector in Wicklow, Ireland keeping him very busy. His passion is expressed in every painting, leaving a piece of his soul therein. He expresses multiple styles from landscape, abstract, realism or anatomy. He extends himself to the point of being transparent before the viewer. The mediums he paints in are mixed, ranging from enamels, oils, acrylics, metal dusts and tea leaves.
In addition to creating his passion, John shares his passion for art through teaching. The Umbuyisa School of Art in Soweto is one the schools where he teaches and has a studio for his artworks. Based in the golden mile of Vilakazi Street (home to Mandela and Tutu) it stirs up such a mystic narrative to the local art scenes and faces.
There, John and colleague, Tsepho, work with the kids and provide them with food and funds. John's work has been exhibited in South Africa, Ireland, and the US.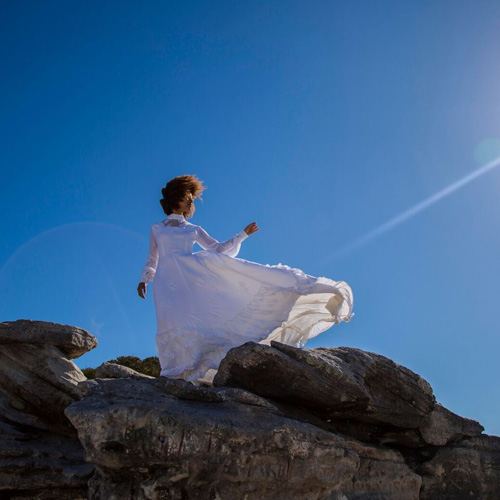 JOY MEYER
JOY MEYER
JOY MEYER
"I want to provide a silent medium to communicate the plight of the socially silent oppressed."
Joy Meyer's photographic work explores stories about people who have overcome life's challenges. She uses her photography as a means of self-expression. She was born in Calvinia; was raised and educated in Cape Town, South Africa. During the year 2012, Joy entered the Social Landscape Competition and was chosen as one of the winners. She also participated in a research project, called Visual Hillbrow, for the Reproductive Health and HIV Research Unit (RHRU) in 2010. Her works were featured in Le Monde (print and online) and their magazine Le Mensuel in 2010, the VillageReach website, a not-for-profit organization (NGO) that saves lives and improves healthcare services access to underserved communities. She completed a certificate in Business Administration and Management at the Damelin Business School in Cape Town in 1999; a certificate in Photojournalism and Documentary photography at the Market Photo Workshop in 2010; a certificate in Wildlife Filmmaking at the Wildlife Film Academy in 2011 and she is an honours graduate in Media Studies through the University of South Africa (UNISA, 2015).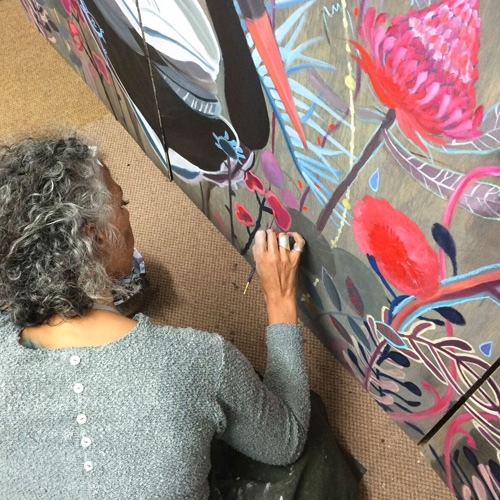 LEILA FANNER
LEILA FANNER
Leila Fanner
"The dominant focus as I work is the quality of my thoughts and the connection to emotion during the creative process."
Leila was born in Los Angeles, California to a South African artist and an African American musician. She was raised in Pilgrims Rest, South Africa and currently lives and works from her home studio in Riebeek Kasteel. She studied at the Johannesburg National School of Art, Ballet, Drama and Music where she received a Best Actress award at the University of the Witwatersrand (Wits) Play Festival. She trained as a graphic designer, later managed the Pilgrims Rest Art Studio and Gallery, and held her first exhibition, "Faux Masters" in 1993. Leila's first exhibition project,at the age of 23, was the rendering of watercolours of the popular works of the great master painters such as Gauguin, Klimt and Van Gogh, reproduced in miniature. She went on to hold other exhibitions in between working, traveling and raising her first son.
Before taking up her craft full-time, Leila worked as a decorative painter for interior designers, a graphic designer for ad agencies and a promotions director for Conde Nast Magazines. Leila focused on abstract art for a couple of years, before moving into figurative work, nature studies and photography. Her work is in private collections in France, Germany, the US and England.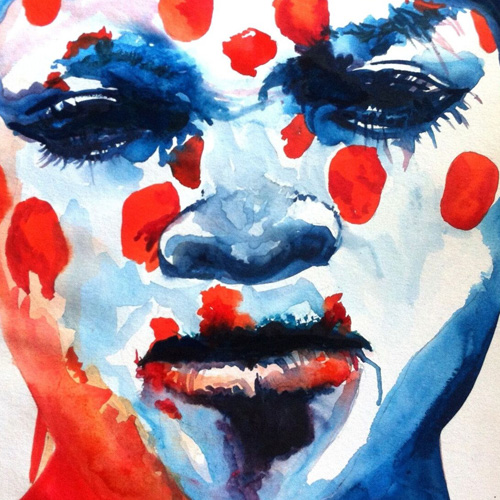 LIODA CONRAD
LIODA CONRAD
LIODA CONRAD
"I am an artist not because I want to achieve anything, but because it is something that I am as a being of creation and creation is a primary function thus."
Lioda Conrad is a Cape Town-based graphically trained fine artist with a love for Africa where she was born. The bush, the people and the animals contained within, are reflected clearly in her work. Her work is both sensitive and freely expressive of the beauty found in Africa. She had been described as an upcoming "force" with substantial value by some SA art masters who are calling it an important body of work.
With works hosted in private collections in the US, UK, Ireland, SA, and Switzerland, as well as numerous features in Galleries across South Africa and internationally, Lioda Conrad has a passion to give-back and support other emerging artists.
Female artists in Africa are less supported due to the political climate and heritage of the male driven society. Even as a struggling artist herself, she also still supports other artists and tutors or guides others and where possible exposes them to some publicity. She also teaches some students from the local informal settlement of Masipumelele in the art of drawing. She welcomes visitors to her home and studio for discussions regarding art or to watch her works in progress or to simply also sit and work on art themselves.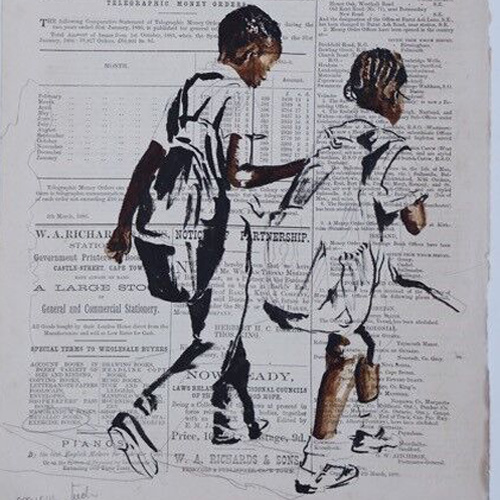 LISETTE FORSYTH
LISETTE FORSYTH
LISETTE FORSYTH
"The need to revel and reflect life's beauty drives me to create."
Lisette is a fine artist who paints to fill the need to create. She is constantly experimenting with media and subject matter. The compulsion to recycle pushes her towards mixed media. For Lisette there isn't a huge urge to comment on anything political, although you will often find a political poster on the back of her painting done on hard board. Cape Town and its people provide contradictions and contrasts to work from. Every day is an inspiration. The need to revel and reflect life's beauty drives Lisette to create. Lisette's vision is to use art to highlight the sameness of people and help to create a greater understanding for tolerance by using everyday contradictions and contrast in society through art. Through her paintings she aims share the delight in the seemingly ordinary.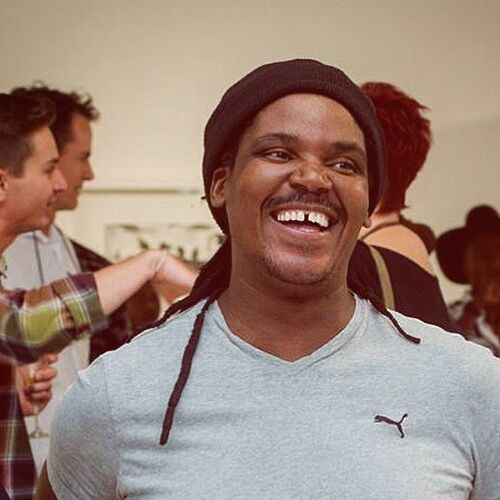 NDABUKO NTULI
NDABUKO NTULI
NDABUKO NTULI
"As an artist, I find myself at a transitional stage in my work, transforming from commercial to more conceptually charged works. Challenged by trash in the streets, engaging more with it is an important art material that adds value to my artistic narrative."
Ndabuko's focus on art followed him all through his education from preschool to high school. He moved to Alexandra Township where he began developing his craft at the Alexandra Art Center for less advantaged artist. Doors started opening up to galleries and exhibitions unfortunately to unscrupulous art dealers who exploited artists from the townships and villages and are perpetuating the struggle for artists like Ndabuko to secure a healthy life for himself and his family.
Today, Ndabuko is a well-established sculptor, painter and singer. Ndabuko Ntuli has a masterpiece that has been sculptured from the valleys and fields of KwaZulu-Natal to become one of the most creative and inspirational stories of our time. He has been featured in a number of group exhibitions in South Africa, London and the US.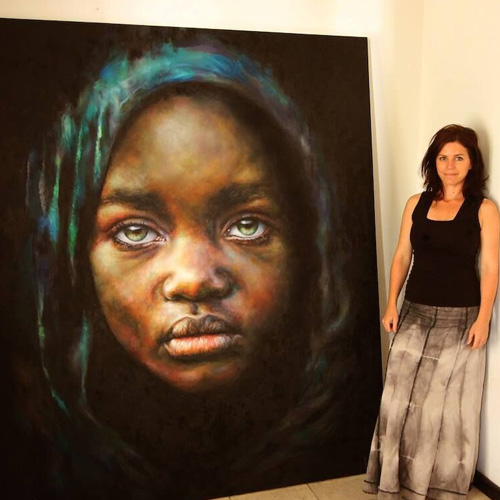 PHULANI LIEBENBERG
PHULANI LIEBENBERG
PHULANI LIEBENBERG
"I love the process of breaking down the overall composition into the separate elements that harness human emotion, and how the smallest changes in each, affect the mood and emotion in my work."
Phulani was born in the Eastern Cape of South Africa. She is a self- taught artist and has always expressed herself artistically through different mediums, whether it be drawing, painting, photography or clothing design. Over the past five years she has been working exclusively with oil on canvas. Currently her focus is on portraiture. She is drawn to the challenges of capturing the 'life' and emotion of the subject's eyes. Her current themes are based on the various African cultures that inhabit the continent—their beliefs, rituals, appearances and all aspects that make them unique. She has always loved how Africa celebrates bright rich colors and how beautifully they are used to represent and tell a story about a specific culture and a way of life. Her paintings are her perspective of a beautiful continent and its people, the roles we play as Africans, and the wonderful ways in which we do so.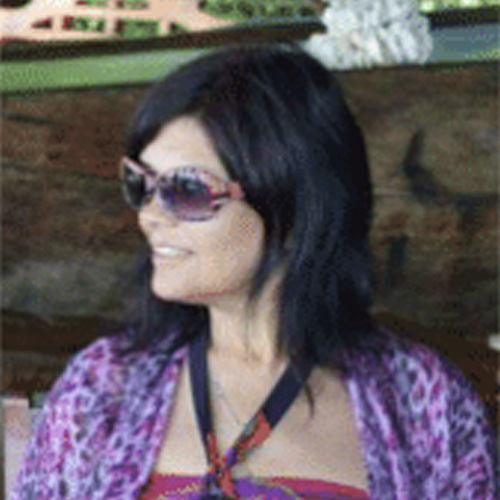 SHARON BERRY-ELLIS
SHARON BERRY-ELLIS
SHARON BERRY-ELLIS
"My passion is to create visual artworks. My mission is to discover new ways of doing so."
Sharon Berry-Ellis was born in Cape Town in 1966. She is married to her best friend and fellow artist, Geoff Ellis, and they are blessed with three beautiful daughters and two perfect granddaughters.
Sharon studied Architectural draughting and pursued a corporate career in unrelated fields until 2001 after which she concentrated on becoming a full-time professional struggling artist and tutor. They founded Artnet in 2003 which initially consisted of 40 Cape Town-based artists who
supported each other in marketing, workshops, retreats and excursions. She developed and taught "The Art of Perception" course to hundreds of adult students from 2002 until 2013 at the Creative Space Art Studio and also collaborated with other artists in various studios in the region. She has participated in numerous exhibitions and charity auctions and her work has been represented and sold by various reputable art galleries. She is a regular visitor to Zanzibar where she visits her grandchildren and catches a bit of painting in between trying to stay cool. She has taken a break from teaching and commissions to concentrate on creating new work for upcoming international exhibitions. Her paintings do not reflect one particular style as she is constantly evolving and refers to herself as a cognitive explorer.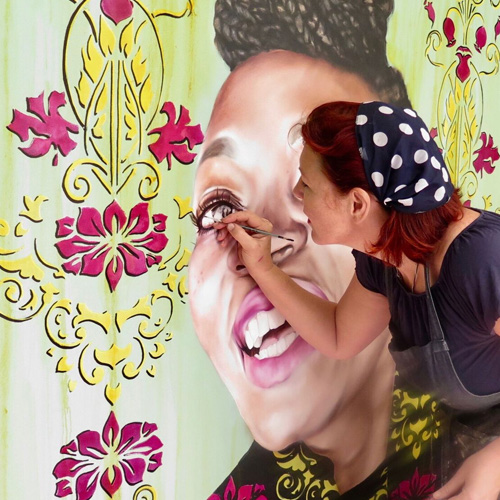 VANESSA BERLEIN
VANESSA BERLEIN
VANESSA BERLEIN
"My work is varied, but is concerned with human emotional response and relationship to one another, the landscape and within abstraction."
Vanessa received her fine art diploma at Natal Technicon, Kwa Zulu. She completed 1st and 2nd year and in 1998 she completed a diploma course in prosthetic make-up at Face to Face College in Johannesburg, South Africa.
As an artist, she works predominantly in paint medium on board, paper and canvas. Vanessa's work is varied, but is concerned with human emotional response and relationship to one another, the landscape and within abstraction. She has exhibited and curated in South Africa and abroad. In 2010 she set up The Haas Collective in Cape Town with Francois Irvine. The Collective is primarily concerned with acting as a springboard for emerging South African designers and artists. Between 2009 and 2013, Vanessa headed up the art sourcing department for Cecile and Boyd Interiors.
At present she works out of Eastside Studio in Woodstock, Cape Town.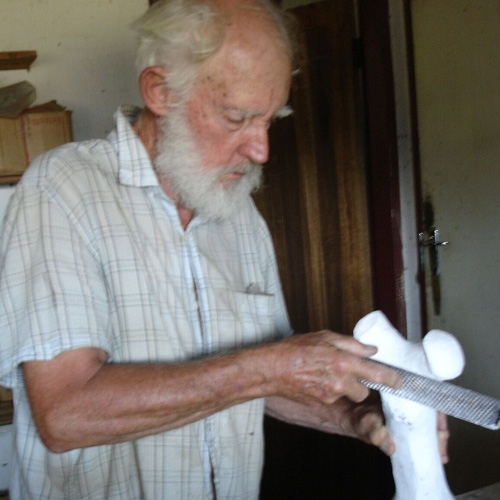 WILHELM SCHMIDT
WILHELM SCHMIDT
WILHELM SCHMIDT
Wilhelm Schmidt was born in Windhoek, Namibia and after matric went to study History of Art, Psychology and Languages. His passion for the arts and specifically sculptures led him into full time art practice in 1975 and to date he has produced more than 500 pieces of sculpture. He worked in steel, stone, wood and glass fibre, but for the past 30 years he worked primarily in bronze. His art pieces include life size chess pieces, bronze vases and abstract paintings. Wilhelm also participated in two International Sculpture Symposiums for monumental sculptures in Changchun, China in 2011 and 2016.